Portfolio print en drukwerk
Grafische vormgeving met oog voor details en kennis van hoe mensen grafische uitingen tot zich nemen. Een goed vormgegeven lay-out wordt door mensen als prettig ervaren. En door informatie op de juiste plaats te positioneren wordt die informatie bewust en onbewust onthouden.
Als het bedrukt kan worden, kan Arloz het vormgeven!
Drukwerk en grafische vormgeving
Arloz heeft vaak naast het webdesign van klanten ook briefpapier, drukwerk, print en promotiemateriaal ontworpen. Denk hierbij aan folders, kaartjes, visitekaartjes, flyers en posters voor een beurswand. Tevens kan Arloz de complete grafische bekleding van een beursstand verzorgen.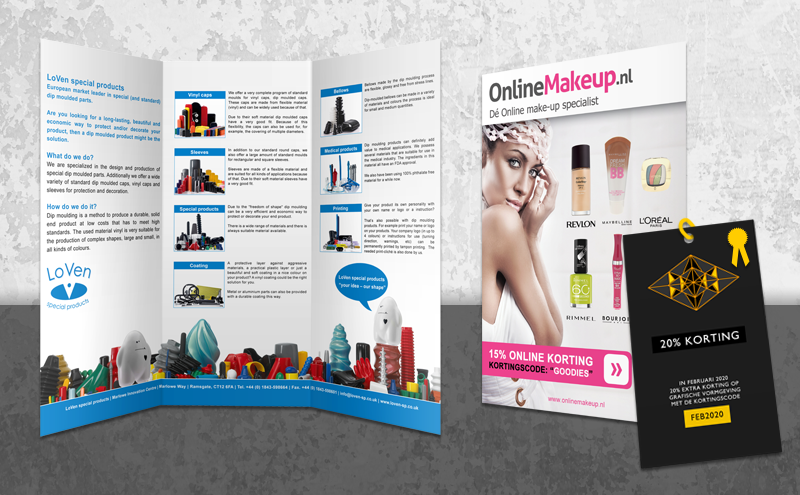 Portfolio overzicht
Alle getoonde portfolio voorbeelden en opdrachten zijn ook op aanvraag.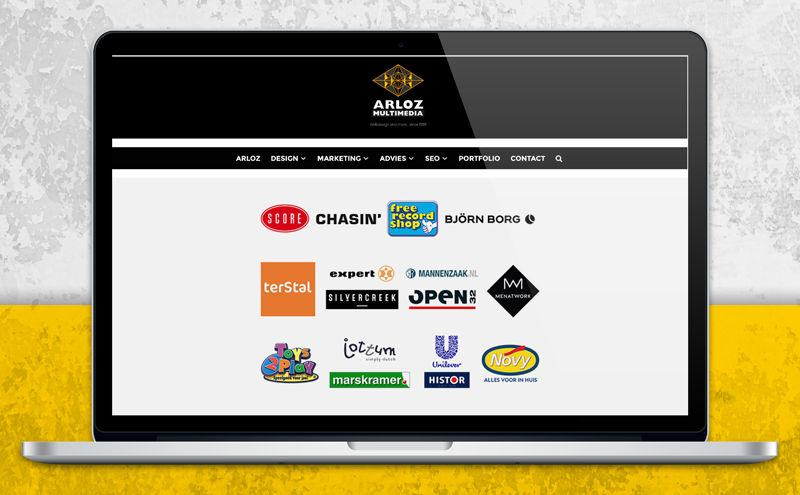 Arloz werkte o.a. voor en i.s.m.
Portfolio klanten uit het verleden en heden, Arloz Multimedia - 1999 tot 2020.
Webdesign (websites) voor o.a.
Bamboo XL - Bjorn Borg - Cafe Verheyden - Chasin' - FreeRecordShop - HypeBazaar - La-Bastide - LoVen-SP - Men at Work - Promoresults - Score Wholesale B.V. - TotalCreation - Vakantiehuismurol.nl - VJ.nl - Wetranslate - WitteWoningMakelaars.
E-commerce (Webshop design, interim management, SEO) voor o.a.
Chathead - e*cube - Expert - Florient - Jellyfish lampen - Score Wholesale B.V. - terStal familiemode.
Affiliate en adsense banners (GIF, FLASH, JPG & HTML5) voor o.a.
Blitz - Bokkz - Canvassite - Grachtenhuis - Expert - Mannenzaak.nl - Men at Work - OPEN32 - Promixx - Silvercreek - Score - Summit Travel - terStal familiemode.
Arloz portfolio klanten i.s.m
Naast mijn eigen klanten zijn er ook externe reclame-, advies- en internetbureaus waarvoor ik als onderaannemer heb gewerkt. Dit zijn naast langlopende projecten, interim advies en interim management ook eenmalige projecten of reclame campagnes m.b.t. internet, marketing, SEO en instore design.
Externe opdrachten als onderaannemer voor o.a.
Blitz Casino's - Jottum - Histor - Marskramer - Novy - Toys2Play - TotalCreation - Unilever - VW.
Mocht u vragen hebben over 'print en drukwerk' of meer informatie willen hebben over de mogelijkheden die Arloz biedt m.b.t. print en drukwerk?
Contact is snel gemaakt!
Grafisch ontwerp showcase